The Friday 56 is a weekly meme hosted by Fredasvoice.
Rules:
Grab a book, any book.
Turn to page 56 or 56% in your eReader
Find any sentence, (or few, just don't spoil it)
Post it.
Add your (url) post below in Linky. Add the post url, not your blog url.'
---
The book: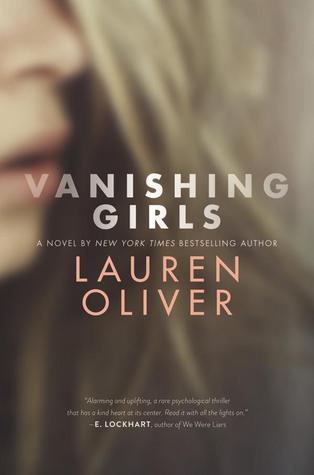 Vanishing Girls by Lauren Oliver
Synopsis:
New York Times bestselling author Lauren Oliver delivers a gripping story about two sisters inexorably altered by a terrible accident.
Dara and Nick used to be inseparable, but that was before the accident that left Dara's beautiful face scarred and the two sisters totally estranged. When Dara vanishes on her birthday, Nick thinks Dara is just playing around. But another girl, nine-year-old Madeline Snow, has vanished, too, and Nick becomes increasingly convinced that the two disappearances are linked. Now Nick has to find her sister, before it's too late.
In this edgy and compelling novel, Lauren Oliver creates a world of intrigue, loss, and suspicion as two sisters search to find themselves, and each other.
---
The 56:

We don't talk about the accident, or Dara, or about the past at all. And suddenly it's three o'clock and the first

 

shift of my new job is over, and it didn't totally suck.