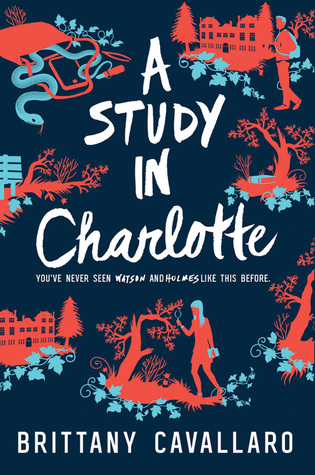 A Study in Charlotte (Charlotte Holmes 1) by Brittany Cavallaro
Publisher: Katherine Tegen Books
Publication date: March 1st 2016
Genre: YA, Mystery.
My rating: 4 stars
The last thing Jamie Watson wants is a rugby scholarship to Sherringford, a Connecticut prep school just an hour away from his estranged father. But that's not the only complication: Sherringford is also home to Charlotte Holmes, the famous detective's great-great-great-granddaughter, who has inherited not only Sherlock's genius but also his volatile temperament. From everything Jamie has heard about Charlotte, it seems safer to admire her from afar.

From the moment they meet, there's a tense energy between them, and they seem more destined to be rivals than anything else. But when a Sherringford student dies under suspicious circumstances, ripped straight from the most terrifying of the Sherlock Holmes stories, Jamie can no longer afford to keep his distance. Jamie and Charlotte are being framed for murder, and only Charlotte can clear their names. But danger is mounting and nowhere is safe—and the only people they can trust are each other.
This book was good and I liked it enough to read it in one sitting (aka staying up waaaay too late to finish it.) It was just a fun mystery read.
This book is based on the Sherlock Holmes stories and is about 16-year-old charlotte Holmes and Jamie Watson who are descendants of Sherlock Holmes and Doctor Watson. Jamie has always imagined becoming friends with charlotte and solving crimes with her and when he gets a scholarship to the boarding school in Connecticut where charlotte goes he is sure they will become instant friends. Charlotte however doesn't seem to want anything to do with him and Jamie feels lonely and unconfutable amongst his new classmates. He does hang out with some boys but he does not really like them and when a boy named Dobson moths off about charlotte he snaps and beats him up only to be shouted at by charlotte herself because she doesn't need him to fight her battles. This is when he realises that his dreams of solving mysteries with charlotte will always be just that, dreams. Then Dobson is murdered and all the clues point to himself and Charlotte, forcing them to work together to solve the case before they end up in prison.
That is all I can really say about the plot because I don't want to spoil anything that will make the story less fun to read because I want everyone to have ass much fun reading this as I did!
The story is told from Jamie's point of view so we naturally get to know him a bit better than Charlotte, mostly because he finds her to be quite confusing and mysterious. Jamie has issues, and one of them is quite serious, not that the others aren't but one is more dangerous. He gets uncontrollable fits of rage that leads to someone or something being pummelled. He can't control these fits and when he is in one it is like he can't see beyond his rage at all. He also has a complicated relationship with his father and is a bit obsessed with Charlotte. I did not like Jamie as a person. I found him a bit whiney and depressing but I did like that he is a good person and that he understands charlotte perfectly.
I really liked how charlotte is just as crazy as her ancestor Sherlock and has all the same vices as him (Drug habits, meticulous eating, insensitivity etc.) and is still somehow considered to sensitive by her family. I did not like Charlotte as a person, she was not nice and she keeps many secrets even from Jamie. I did however like her as a Sherlock if that makes any sense at all. I also like that she is complex and has many layers beneath the cold, calculated one she shows the world.
Charlotte and Jamie makes just as good a team ass their ancestors and understand each other so well it is like they have always known one another. There is some romance between them but mainly they are friends and partners and I can't wait to see how they develop in future instalments. I kind of feel like they won't end up being more than friends just because that is the dynamic I see between them.
In conclusion, I really enjoyed this book. It was fun and exciting and kept me turning the pages. It had a good mystery and complex characters so if that sounds like something you would enjoy go read it. 🙂
Luna.
Ps there is a Trailer for this book so check it out if you want to.