The Friday 56 is a weekly meme hosted by Fredasvoice.
Rules:
Grab a book, any book.
Turn to page 56 or 56% in your eReader
Find any sentence, (or few, just don't spoil it)
Post it.
Add your (url) post below in Linky. Add the post url, not your blog url.'
---
The book: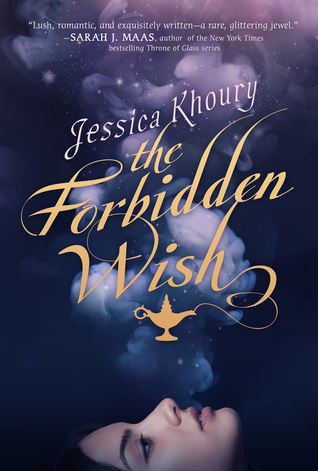 the Forbidden Wish by Jessica Khoury
Synopsis:
She is the most powerful Jinni of all. He is a boy from the streets. Their love will shake the world…
When Aladdin discovers Zahra's jinni lamp, Zahra is thrust back into a world she hasn't seen in hundreds of years—a world where magic is forbidden and Zahra's very existence is illegal. She must disguise herself to stay alive, using ancient shape-shifting magic, until her new master has selected his three wishes.
But when the King of the Jinn offers Zahra a chance to be free of her lamp forever, she seizes the opportunity—only to discover she is falling in love with Aladdin. When saving herself means betraying him, Zahra must decide once and for all: is winning her freedom worth losing her heart?
As time unravels and her enemies close in, Zahra finds herself suspended between danger and desire in this dazzling retelling of Aladdin from acclaimed author Jessica Khoury.
---
The 56:

I slip under the rope and into the ring, ignoring her. You don't know anything about it, "sister." I am the last person in the world who is interested in Aladdin. What I am interested in is sticking close enough to him that I won't get inconveniently sucked back into my lamp.
Luna.