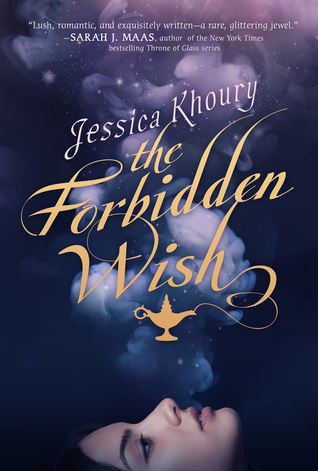 the Forbidden Wish by Jessica Khoury
Publisher: Razorbill
Publicaton date: February 23rd 2016
Genre: YA, Fantasy, Retelling
My rating: 5 stars
She is the most powerful Jinni of all. He is a boy from the streets. Their love will shake the world…

When Aladdin discovers Zahra's jinni lamp, Zahra is thrust back into a world she hasn't seen in hundreds of years—a world where magic is forbidden and Zahra's very existence is illegal. She must disguise herself to stay alive, using ancient shape-shifting magic, until her new master has selected his three wishes.

But when the King of the Jinn offers Zahra a chance to be free of her lamp forever, she seizes the opportunity—only to discover she is falling in love with Aladdin. When saving herself means betraying him, Zahra must decide once and for all: is winning her freedom worth losing her heart?

As time unravels and her enemies close in, Zahra finds herself suspended between danger and desire in this dazzling retelling of Aladdin from acclaimed author Jessica Khoury.
---
This book is a  standalone retelling of Aladdin, or to be more accurate it is loosely based on the Aladdin story.
It is told from the Jinni Zahra's point of view and starts when Aladdin finds her lamp in a buried chamber where she has been for over 400 years. Aladdin is a thief who desperately wants to revenge his parents who were killed by the Vizier Sulifer. Zahra who has gotten a mission from the King of the jinn to free his son in order to earn her own freedom comes up with a plan that will get her inside the palace. She tells Aladdin that the perfect way to get his revenge is by wishing to become a prince in order to steal the princess's heart and become king because then he can do whatever he wants to the Vizier. Aladdin thinks that it is a brilliant plan, so he makes the wish and starts his quest to win the princess, leaving Zahra free to search for the trapped Jinni prince. The only problem with the whole plan is that the more time Zahra spends with Aladdin the more she cares for him, which is dangerous because the most sacred rule for a Jinni is to never love a human.
---
What I liked:
The setting. I loved that this was set in a desert city that felt like a bazar type place.
The Jinni. The Jinni in this book had a rich backstory and we get to know so much about them.
Zahra. Zahra is over 4000 years old and one of the most powerful Jinni in existence. She can control all four elements as well as shapeshift and she is a badass. Even though she is enslaved to her lamp and forced to obey the wishes of her masters, she has always managed to make sure they never really get what they want if she doesn't like them.
princess Caspida. This princess is badass! She has been going around the city with her equalley badass handmaidens and doing rebellious acts of good in secret. She is known as the phoenix and the people love her.
What I disliked:
The Jinni king. He was just so evil! He is the one that enslaves Jinni to their bottles and all other jinni has to do as he says or pay dearly. He dislikes Zahra because she became to close to her last master and he made her pay a terrible price for it.
Darian and vizier sulifer. Sulifer is the king's brother and a very cruel man that desperately want's the crown. He beats his son, beheads people for no reason and is just all around awful. Darian is his son and Caspida's fiancé. He is the kind of person that view women as things and believes he owns Caspida. He is also desperate for his father's love and does many horrible things because of that.
---
In conclusion, this book was full of magic and intrigue and I loved it. If you like fantasy or retellings this is one you should definitely read.
Luna.