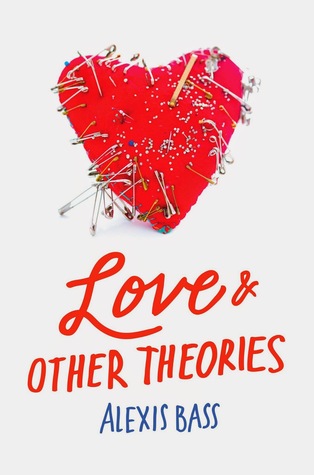 Love & Other Theories by Alexis Bass
Publisher: HarperTeen
Publication date: December 30th 2014
My Raiting: 2.5 stars
If you want more, you have to give less.

That's the secret to dating in high school. By giving as little as they expect to get in return, seventeen-year-old Aubrey Housing and her three best friends have made it to the second semester of their senior year heartbreak-free. And it's all thanks to a few simple rules: don't commit, don't be needy, and don't give away your heart.

So when smoking-hot Nathan Diggs transfers to Lincoln High, it shouldn't be a big deal. At least that's what Aubrey tells herself. But Nathan's new-boy charm, his kindness, and his disarming honesty throw Aubrey off her game and put her in danger of breaking the most important rule of all: Don't fall in love.
I feel conflicted about this book. One the one hand it was enjoyable but on the other hand, I did not like a single character.
This book is about Aubrey and her three best friends Shelby, Melissa and Danica. They are popular, mean girls that has come up with a set of rules about boys that will prevent them from heartbreak. The rules are things like: don't commit, don't be needy, and don't give away your heart. They believe that boys are pigs that will never commit and if you don't expect them to, or want them to you won't get hurt. Then Aubrey meets Nathan and hooks him using the rules. She tries hard to tell herself she doesn't care about him at all, but it is obvious she is falling for him. Then something happens and everything falls apart, leading Aubrey to question how good the rules really are. Spoiler alert, They suck.
---
What I liked:
The drama. This book was kind of like a train wreck soap opera, the kind you feel like you should not enjoy but you just can't help it.
The development of Aubrey. In the beginning of the book, Aubrey is a bitch. She follows her friends everywhere, treats boys as if they have no feelings, and is really, really mean to a girl that used to be her friend. Then as the novel progresses she actually starts thinking for herself and realizes that she is not ok with some of the things she and her friends does and by the end of the novel she has learnt to stand up for herself and do what she thinks is right, even if her friends don't agree.
What I did not like:
Shelby.She was the leader of the group and the person who came up with the rules. She was also a really bad friend and did not trust her friends at all. She also never really believed in the rules but she still enforced them with an iron hand. I get that she had problems but I still really disliked her.
The way boys are portrayed. Throughout the book, the boys keep proving that those awful rules are true. They cheat, lie and take advantage. I get that they think these girls don't care because they act like they don't but still. I just feel like boys were badly portrayed and I don't like it because even though there are plenty of guys like that there are also plenty of decent guys.
The relationships. Most of the relationships in this book was seriously unhealthy. Full of lies and deception. There were literally only one decent relationship and even that one had some issues. These people were just making so many bad choices and it was really annoying.
---
In conclusion, this book made me angry and frustrated but it also made me think about what good relationships are. If you want a book that is full of drama, this is the one for you.
Have any of you read this book? What did you think? 🙂
Luna.