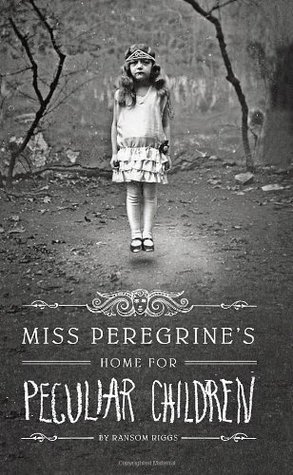 Miss Peregrine's Home For Peculiar Children (book 1) by Ransom Riggs
Publisher: Quirk
Publication date: June 7th 2011
My Rating: 4.5 stars
A mysterious island. An abandoned orphanage. A strange collection of curious photographs.

A horrific family tragedy sets sixteen-year-old Jacob journeying to a remote island off the coast of Wales, where he discovers the crumbling ruins of Miss Peregrine's Home for Peculiar Children. As Jacob explores its abandoned bedrooms and hallways, it becomes clear that the children were more than just peculiar. They may have been dangerous. They may have been quarantined on a deserted island for good reason. And somehow—impossible though it seems—they may still be alive.

A spine-tingling fantasy illustrated with haunting vintage photography, Miss Peregrine's Home for Peculiar Children will delight adults, teens, and anyone who relishes an adventure in the shadows.
This book was different from anything I have ever read before. It is built around creepy vintage photographs and was really well written.
This book is about Jacob a 16-year-old boy that decides travel to Cairnholm Island of the cost of wales after the death of his grandfather because he believes his grandfather wanted him to. His grandfather spent a few years living on the island during the war and he used to tell Jacob these amazing, impossible stories about the other children he lived with. Jacob doesn't believe what his grandfather told him is anything but stories and only expects to find someone who knew his grandfather on the island. When he gets there however he discovers that all his grandfather's stories where true, there really is a house full of peculiar children, and they are all in danger.
---
What I liked:
The photographs. I really enjoyed how this story is based around creepy old photographs. It is something I have never seen before and it added a lot to the story.
Miss peregrine. Miss Peregrine is the one that keeps all the peculiar children safe. She is their teacher, and a mother figure. She is also a time traveling Peregrine Falcon.
The Imagery and plot. The plot of this book is so well developed and interesting. While reading the book I could see it all so clearly in my head and I really felt like I was there with Jacob.
What I disliked:
Jacobs's parents. They were distant and uninterested in him and pretty snobby and rich.
The Romance. I just feel a bit iffy about the romance in this story. Luckily, it is not the focus of the book.
---
In conclusion, I did really like this book. It was unique, interesting and masterfully written. I would recommend that people looking for something different pick it up.
Luna.