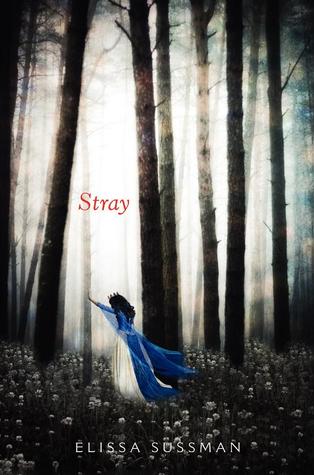 Stray by Elissa Sussman
publisher: Greenwillow
Publication date: October 7th 2014
My Rating: 4.5 stars
I am grateful for my father, who keeps me good and sweet. I am grateful for my mother, who keeps her own heart guarded and safe. I am grateful for my adviser, who keeps me protected. I am grateful for the Path, which keeps me pure. Ever after.

Princess Aislynn has long dreamed about attending her Introduction Ball, about dancing with the handsome suitors her adviser has chosen for her, about meeting her true love and starting her happily ever after.

When the night of the ball finally arrives and Nerine Academy is awash with roses and royalty, Aislynn wants nothing more than to dance the night away, dutifully following the Path that has been laid out for her. She does not intend to stray.

But try as she might, Aislynn has never quite managed to control the magic that burns within her-magic brought on by wicked, terrible desires that threaten the Path she has vowed to take.

After all, it is wrong to want what you do not need. Isn't it?
I loved the world Elissa Sussman created in this book. All women have magic, but they are thought by the Advisers (men in charge) that their magic is wicked and should never be used, since childhood. Common women have their magic blocked by a charm, while noble women are sent to an academy where they learn to contain their magic. When the noble girls turn, sixteen they become eligible for marriage and if a girl fails to marry before her seventeenth birthday or fails to control her magic, she becomes a fairy godmother, which means she becomes a servant for a noble girl, who can perform small charms when needed. In order to ensure that none of the fairy godmothers gets into any trouble the love and warmth in their hearts are removed, leaving them cold and detached. If someone fails as a fairy godmother, she is either reassigned to become a teacher or permanently removed.
There are four kingdoms that follow the path (believes magic is bad) and have the same social structure whit nobility and commoners. The kingdoms are called north, shout, west and east. They are divided by the midlands, which is ruled by a queen called Josette who deserted the path and created her own kingdom where magic is used. She is said to be evil and dangerous and the citizens in the kingdoms are forbidden from entering the woods that make up the midlands.
In this story, we follow Aislynn who has always struggled with controlling her magic. She has just reached her sixteenth year and is at the ball where she will meet her suitors, when she has a huge incident with magic that gets her reassigned to fairy godmother. Aislynn was a bit frustrating to read about because she was so, so against her awesome magic. I get that she has been raised to fear it and treat it as a disease but I still got annoyed at how long it took her to see that her magic was not bad. Apart from that, though I really enjoyed Aislynn as a character. She was a strong person who stood up for herself and once she started using her magic she was a force to be reckoned whit.
There are quite a few side characters in this book, but my favourite was Bridget. She is a servant at the school Aislynn becomes a fairy godmother at, and has been serving Aislynn's new Princess for years. Bridget was strong, independent and kind. She was not always nice to Aislynn, and might not have liked her al that much but she always helped her. I feel like she will become important as the series continues and am looking forward to get to know her better.
The romance in this book was not a huge focus and although there is a guy that Aislynn has some chemistry with, we don't get to know him all that well. The little we did get to know about him though was good and I do feel like their romance will be more present as the series progresses.
This story completely sucked me in and I ended up reading it in one sitting. When reflecting upon it I realize it was a bit slow in places and that for a large part of the book nothing really happened, but I enjoyed the book so much that I did not even notice it while reading.
Overall, I think this is a great start to a series and I am excited to see where the story goes. I recommend it to fantasy lovers and people who want to get into YA fantasy.
Have any of you read stray? What did you think?
Luna.