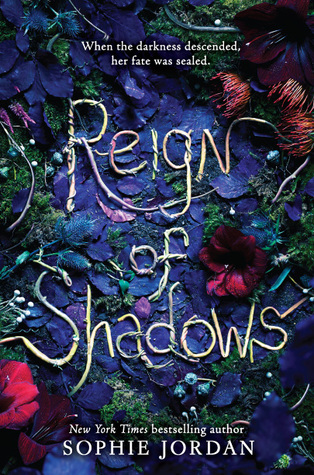 Reign of shadows by Sophie Jordan
Publisher: Harper Teen
Publication date: February 9th 2016
My rating: 4.5
Seventeen years ago, an eclipse cloaked the kingdom of Relhok in perpetual darkness. In the chaos, an evil chancellor murdered the king and queen and seized their throne. Luna, Relhok's lost princess, has been hiding in a tower ever since. Luna's survival depends on the world believing she is dead.

But that doesn't stop Luna from wanting more. When she meets Fowler, a mysterious archer braving the woods outside her tower, Luna is drawn to him despite the risk. When the tower is attacked, Luna and Fowler escape together. But this world of darkness is more treacherous than Luna ever realized.

With every threat stacked against them, Luna and Fowler find solace in each other. But with secrets still unspoken between them, falling in love might be their most dangerous journey yet.

With lush writing and a star–crossed romance, Reign of Shadows is Sophie Jordan at her best.
I loved this book. It was such a fantastic fairy-tale set in a richly imagined, dark world.
The story is about a girl named Luna, who is living her life hidden away in a tower in the woods. She is a princess, on the day she was born a curse of darkness descended upon her parent's kingdom and an evil chancellor saw his chance to cease the throne, and assassinated her parents. Her mother's ladies-maid Perla managed to get her to safety whit the help of a palace guard named Sivo. Luna has lived her entire life in the tower and although she's had a safe, comfortable life whit Perla and Sivo, she craves adventure. She wants to be out in the world, experiencing it for herself but Perla and Sivo feel it would be too dangerous because the king can't find out she's alive.
Luna gets her adventure when the tower is attacked and she flees whit the help of a young man named Fowler who is on his way to a city called Allu, which is rumoured to be monster free and have actual daylight. I can't say anything about their journey without spoiling something, but wow these two face a lot of danger.
The book is told in alternating pov's between Luna and Fowler. I personally preferred Luna's voice because I liked her better and found her more interesting, but I enjoyed Fowler's voice as well. I thought the dual point of view worked really well in this story because Fowler and Luna have led such different lives and if we only had one of their stories, we would not get such a strong impression of their world.
The world in this story was bleak not to mention dark. I mean there is no daylight ever, and only one hour of moonlight every night. This would not be that bad were it not for the Dark Dwellers, who I imagine look like weird, brown mole people whit red eyes, even though their looks are never specified. These creatures only go underground to sleep for the one hour of moonlight, making that the only time anyone can safely go outside. People also need to have deep stone floors or treehouses to be safe, because Dwellers come out of the ground. Then there is the hunger, the evil ruler and the dwindling population not to mention giant bats, that give you bat fever if you eat them.
I really liked Luna; she was strong, smart and never whined. She did what she had too and could hold her own in most situations. Fowler was a different story. I did not like him much when he was first introduced because he whined a lot. He also had a stupid attitude and was mean to Luna because he felt like she was a burden, even after she saves him. He did grow on me throughout the book though, and by the end, I liked him a little.
I gave this book 4.5 stars because it had a richly imagined world and characters that felt real. It did not get five stars because I did not like Fowler that much and there were some things that could have been better, for example the fact that Luna turns into a bit of a damsel in distress and only fights if Fowler can't even though she is a great fighter.
In conclusion, I loved this book and need book two right now. I recommend it to fantasy fans, people who like retellings and everyone else. 🙂
Have any of you read this book? What did you think?
Luna.