The Friday 56 is a weekly meme hosted by Fredasvoice.
Rules:
Grab a book, any book.
Turn to page 56 or 56% in your eReader
Find any sentence, (or few, just don't spoil it)
Post it.
Add your (url) post below in Linky. Add the post url, not your blog url.
The Book: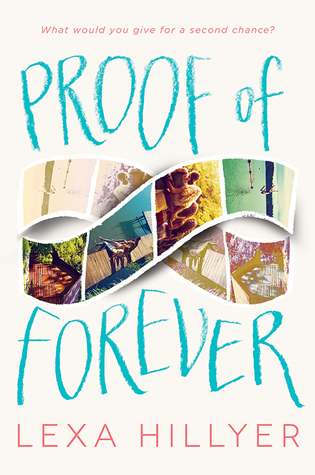 Proof of Forever by Lexa Hillyer
Synopsis:
Before: It was the perfect summer of first kisses, skinny-dipping, and bonfires by the lake. Joy, Tali, Luce, and Zoe knew their final summer at Camp Okahatchee would come to an end, but they swore they'd stay friends.
After: Now, two years later, their bond has faded along with those memories.
Then: That is, until the fateful flash of a photo booth camera transports the four of them back in time, to the summer they were fifteen—the summer everything changed.
Now: The girls must recreate the past in order to return to the present. As they live through their second-chance summer, the mystery behind their lost friendship unravels, and a dark secret threatens to tear the girls apart all over again.
Always: Summers end. But this one will change them forever.
The 56:
"Zoe this isn't a sci-fi TV show," Luce says rather harshly. Zoe can see that her whole body is shaking. "This is real and it's our lives. And we need to figure out how to fix it." "We need to get back to reunion night," Tali says, growing semihysterical. "I had plans!"
Luna.