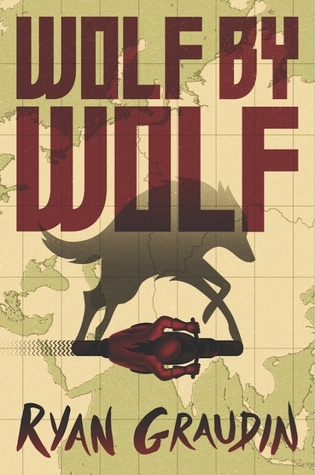 Wolf by wolf by Ryan Graudin
Publisher: Little, Brown Books for Young Readers
Publication date: October 20th 2015
My raiting: 4.5 stars
The year is 1956, and the Axis powers of the Third Reich and Imperial Japan rule the world. To commemorate their Great Victory over Britain and Russia, Hitler and Emperor Hirohito host the Axis Tour: an annual motorcycle race across their conjoined continents. The victor is awarded an audience with the highly reclusive Adolf Hitler at the Victor's ball.

Yael, who escaped from a death camp, has one goal: Win the race and kill Hitler. A survivor of painful human experimentation, Yael has the power to skinshift and must complete her mission by impersonating last year's only female victor, Adele Wolfe. This deception becomes more difficult when Felix, Adele twin's brother, and Luka, her former love interest, enter the race and watch Yael's every move. But as Yael begins to get closer to the other competitors, can she bring herself to be as ruthless as she needs to be to avoid discovery and complete her mission?
When I fist saw this book I did not want to read it because I usually don't like war stories. Then after hearing so many amazing things about it I changed my mind, and I am so glad I did. This was a fantastic book and I really enjoyed it.
The story follows a girl named Yael who has the ability to shapeshift because of experiments done to her in a labour camp. She is on a mission to assassinate Hitler. To do so she has to enter the axis tour as the only female competitor Adele Wolfe and win, because the ball held for the winners is the only time Hitler appears in public.
When the race starts Yael quickly realizes that the mission is far more complicated than she thought because even though she has studied Adele and all the competitors for months she still doesn't know anything about Adele's relationships to them. The people that poses the biggest threat for discovery is Luka and Felix. Luka is Adele's ex and Felix is her twin brother. The two of them know Adele better than anyone else does and it becomes challenging for Yael to fool them. She also has to deal whit constant sabotaging attempts from other competitors as well as gruelling conditions on the race across three continents.
I loved the action in the motorcycle race and was rooting for Yael to win the entire time. The book also had some flashbacks to Yael's life prior to the motorcycle race and I really enjoyed those because they made me feel more connected to her. They also made me realize how much she's been trough and just how big of a badass she really is.
The world in this novel was scary. Hitler controls most of it and there are a lot of rules and oppression. The citizens have curfews and only one TV channel. A lot of art is forbidden and almost all the non-Aryan people have been shipped off to labour camps. The resistance that Yael is part of are growing stronger but unless she succeeds in killing Hitler, they won't stand a chance. In other words, it is a bleak world and one I am so glad I don't have to live in!
I gave this book 4.5 stars because I was a tiny bit disappointed whit the ending. It wasn't bad but it left me feeling a bit unsatisfied. Other than that though it was a great book and I highly recommend it! 😀
Have any of you read Wolf by Wolf? What did you think?
Luna.