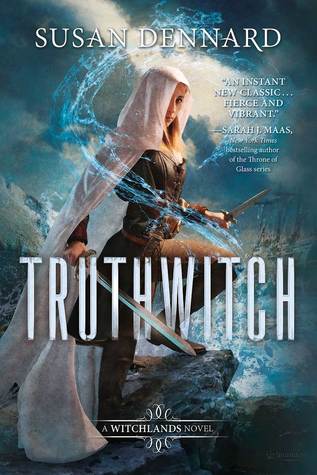 Truthwitch by Susan Dennard
Publisher: Tor Teen
Publication date: January 5th 2016
My rating: 5 stars
On a continent ruled by three empires, some are born with a "witchery", a magical skill that sets them apart from others.

In the Witchlands, there are almost as many types of magic as there are ways to get in trouble—as two desperate young women know all too well.

Safiya is a Truthwitch, able to discern truth from lie. It's a powerful magic that many would kill to have on their side, especially amongst the nobility to which Safi was born. So Safi must keep her gift hidden, lest she be used as a pawn in the struggle between empires.

Iseult, a Threadwitch, can see the invisible ties that bind and entangle the lives around her—but she cannot see the bonds that touch her own heart. Her unlikely friendship with Safi has taken her from life as an outcast into one of reckless adventure, where she is a cool, wary balance to Safi's hotheaded impulsiveness.

Safi and Iseult just want to be free to live their own lives, but war is coming to the Witchlands. With the help of the cunning Prince Merik (a Windwitch and ship's captain) and the hindrance of a Bloodwitch bent on revenge, the friends must fight emperors, princes, and mercenaries alike, who will stop at nothing to get their hands on a Truthwitch.
Truthwitch was a great fantasy story and a wonderful beginning to what I believe will be an epic series.
The story is about two ladies called Safiya and Iseult. They are both strong and powerful and have been taught to fight since a young age. They are also best friends and willing to do anything for each other. I found their friendship to be one of the best parts about this book. It was so simple and pure, and they never doubted their love for one another. Even in the midst of all the crazy things life threw at them throughout the novel, they stayed true to each other, and put the other person first.
I loved the magic system in this novel. It was believable and well thought out. It worked by some people having a witchery aka power. There were many types of witchery but a person only possessed one, and the witches that were not in hiding al had tattoos showing their skill.
The world in truthwitch was amazing and vivid and I feel like we hardly scratched the surface of it in this book, which makes me feel excited about what's to come. The story takes place in the witchlands were a shaky 20-year truce between all the empires is close to expiring. The impending war is the reason Safiya has to keep her truthwitchery a secret, because she is as far as anyone knows the only truthwitch and the emperors would all want to use her if they knew. Iseult also possesses a witchery. She is a treadwitch and believed to be quite weak, although I think this will turn out not to be the case at all.
All the characters in this book were good, and there are quite a few characters I'm not entirely certain are bad, and some I'm not sure are good. My favourite characters besides Safiya and Iseult were Merik a prince and a windwitch, who captains a ship Safiya and Iseult travel whit and Aeduan a bloodwitch who is hunting them throughout the story. I liked Merik because he was a good person and because he and Safiya had some serious chemistry. Now Aeduan was terrifying but I found him intriguing because he had some contradicting thoughts and I feel like he might not be too bad, and I hope that he becomes the girls ally in future books.
I gave this book 5 stars because I loved the world, the characters and the story. I loved everything!
In conclusion this was an amazing start to what I know will be an amazing series and you should pick it up if you like fantasy.
Have any of you read truthwitch? What did you think?
Luna.