---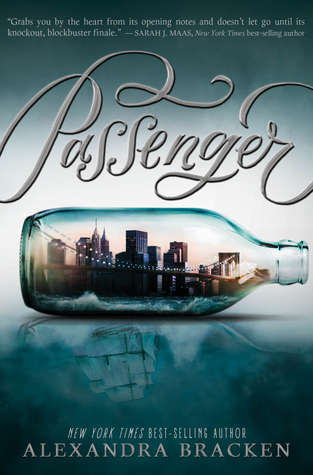 Passenger by Alexandra Bracken
Publisher: Disney-Hyperion
Publication date: January 5th 2016
My rating: 5 stars
In one devastating night, violin prodigy Etta Spencer loses everything she knows and loves. Thrust into an unfamiliar world by a stranger with a dangerous agenda, Etta is certain of only one thing: she has traveled not just miles but years from home. And she's inherited a legacy she knows nothing about from a family whose existence she's never heard of. Until now.

Nicholas Carter is content with his life at sea, free from the Ironwoods—a powerful family in the colonies—and the servitude he's known at their hands. But with the arrival of an unusual passenger on his ship comes the insistent pull of the past that he can't escape and the family that won't let him go so easily. Now the Ironwoods are searching for a stolen object of untold value, one they believe only Etta, Nicholas' passenger, can find. In order to protect her, he must ensure she brings it back to them— whether she wants to or not.

Together, Etta and Nicholas embark on a perilous journey across centuries and continents, piecing together clues left behind by the traveler who will do anything to keep the object out of the Ironwoods' grasp. But as they get closer to the truth of their search, and the deadly game the Ironwoods are play­ing, treacherous forces threaten to sep­arate Etta not only from Nicholas but from her path home . . . forever
My first thought upon finishing this book was I need book two right now! Followed by despair over the fact that book two doesn't even have a summary yet.
I don't feel like I can say too much about this book without spoiling the story. What I can say is that this story is about two time-travellers that has to travel through time in order to find an important object. These time-travellers are called Nicholas and Etta. Nicholas is a pirate from 1776 that is aware of his ability to travel. Etta is a violin player from 2015 who has no idea of what she is when she travels to Nicholas's time. I loved both these characters so much, and even though there were moments I felt like slapping some sense into them, I rooted for them the entire book. The supporting characters of this story was also real and well written and I liked some and hated others.
The whole aspect of time travel in this novel was well explained and easy to get into, and I never once stopped to think this is impossible. I think the fact that the author obviously did her homework about each time-period and place they went to was a big factor in the story being so believable.
What i loved most about this story however were the pirates, maybe that's just because I love pirates so much, but the whole pirate crew was amazing and I hope we see more of them in book two.
This entire story just flowed so beautifully and I loved it so much that I don't have anything bad to say, which is rare for me.
I gave this book 5 stars because it managed something that I feel al books should be able to do. It entranced me, and made me feel like I was seeing it, rather than just reading words off a page.
In conclusion, I loved this book and already know it will be on my 2016 favourite list.
Have you read passenger? What did you think?
Luna.