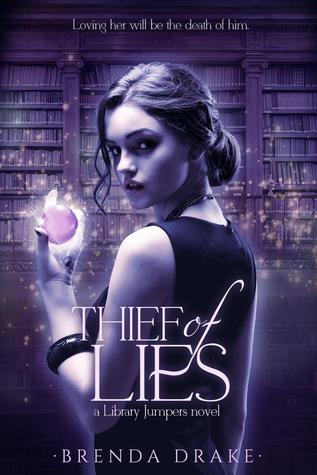 Thief of lies by Brenda Drake
Publisher: Entangled teen
Publication date: January 5th 2016
My rating: 2 stars
Gia Kearns would rather fight with boys than kiss them. That is, until Arik, a leather clad hottie in the Boston Athenaeum, suddenly disappears. While examining the book of world libraries he abandoned, Gia unwittingly speaks the key that sucks her and her friends into a photograph and transports them into a Paris library, where Arik and his Sentinels—magical knights charged with protecting humans from the creatures traveling across the gateway books—rescue them from a demonic hound.

Jumping into some of the world's most beautiful libraries would be a dream come true for Gia, if she weren't busy resisting her heart or dodging an exiled wizard seeking revenge on both the Mystik and human worlds. Add a French flirt obsessed with Arik and a fling with a young wizard, and Gia must choose between her heart and her head, between Arik's world and her own, before both are destroyed.
When I first read the synopsis for this book I felt exited, a book with library jumping, hot magic nights and wizards. YES please! Unfortunately, it did not meet my expectations. Sure, there are hot magic knights and wizards but there is also a million other things, like fairies, magic keys, changelings and so much more. Too much in my opinion.
In fact, this book has so much going on that it gets really confusing and hard to follow. It jumped from one action packed scene to another so quickly that I almost missed the change in scenery a few times. The result is a story where I couldn't get lost in the world and never really got to know any of the characters. The exception beeing Gia our protagonist.
The book started out great whit Gia and her two best friends getting sucked into a book and transported to a library, where they are saved from a demonic hound by a group of sentinels (hot magic nights). Them traveling through the book creates a problem seeing as how humans are not supposed to be able to do so, which poses the question of what Gia is and her journey to the magical world begins.
From that point on however it all gets a bit confusing. We are presented with so many different characters, library's, and conflicts in a short time. Not to mention thrust into a new world that we hardly get any information on, and a magic system that is never properly explained. The fact that this novel on top of everything contains a serious case of instalove, that is also forbidden ultimately led me to skim quite a lot of pages.
I did give this book 2,5 stars. The .5 is there simply because the book had so much potential to be fantastic and I am living in the hope that, as the series continues the writing gets more refined and the world building a little better.
In conclusion, this book ended up feeling like to much fluff to little substance for me. That being said it also left me feeling (more like hoping) that the next book will be great, and I do plan on continuing the series.
Have any of you read Thief of lies? What did you think?
Luna.